Tipperary County Council is pleased to announce that enhancement works at Liberty Square, Thurles, funded by the Department of Housing, Local Government and Heritage under the Urban Regeneration and Development Fund (URDF) are progressing. 
Works on the enhancement project commenced in November 2019 
As of today, 18th June, the following works have been progressed on the southern side of the Square – 
• Excavating to formation for the new footpaths 
• Laying of new kerbs 
• Raising existing manhole chamber lids and frames 
• Placing of the storm water ACO liner drain 
• Connection of storm water tail off's to the down pipes 
• Connection of ESB infrastructure to buildings 
• Pedestrian paving and loading bays have been completed from the Castle to the entrance of the new carpark 
• Public lighting poles erected 
• ESB cables have been pulled from the new sub-station to the northside of the Square 
By the end of July 2021 the footway and loading bays up to Executive Menswear will be completed and open to pedestrians. 
The contractor will then move to Phase 4 of the project on the northeast side of the Square (Suirside Place), where 50% of the shared infrastructure and ESB ducting has already been completed. 
It is expected that Phase 4 works will be completed in 3 to 4 months after commencement. 
It is anticipated that if works can continue unrestricted, all works associated with the enhancement of Liberty Square will be completed by Quarter 1 2022. 
Presentation drawings and maps of the project have remained on display in Thurles Municipal District and will be available again for viewing when Civic Offices re-open. 
This project has evolved and developed over a number of years and Thurles Municipal District would like to thank the many local groups and retailers who have shown their support for the Project.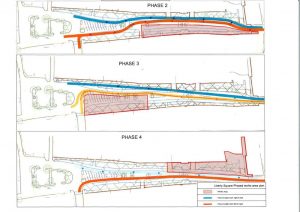 Thomas Duffy, District Engineer of Thurles Municipal District, states: 
I again wish to acknowledge the commitment of the Council, Elected Members and shops and retailers in Thurles to the regeneration of our town. 
Sharon Scully, District Administrator, Thurles Municipal District, states: 
I would again like to thank the people and the retailers of Thurles for their patience and support for the regeneration project. 
The overall positive feedback with regard to the paving works has been particularly pleasing. 
For further information contact Mr. Thomas Duffy, District Engineer, Thurles Municipal District email Thomas.duffy@tipperarycoco.ie Tel 0761 06 5000 
Or 
Ms. Sharon Scully, District Administrator, Thurles Municipal District email sharon.scully@tipperarycoco.ie or Tel 0761 06 5000